Don't give up & Stay positive
Ramazan DERİN/Youth Worker
      When the project application results were announced and we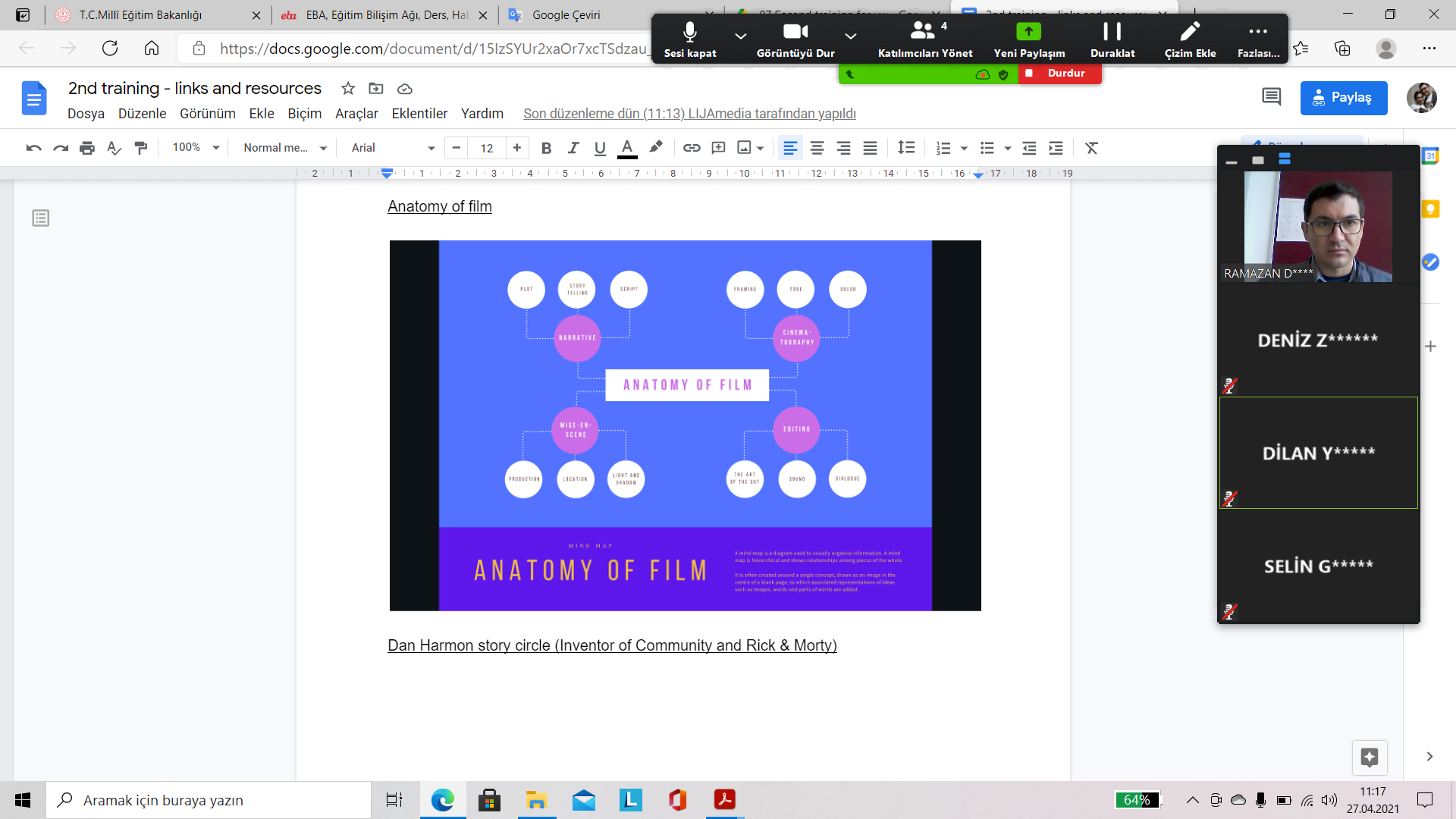 learned that our project was accepted, we had understood the seriousness of the pandemic, witnessed the quarantine practices in the world and understood that this pandemic would not end soon. We believed that the pandemic could end and everything could return to normal before our project activities started, with a hope and a sense of relief from the relaxation of the measures in the summer period. However, September came, summer ended and nothing changed, on the contrary, the measures were increased. On the one hand, we had concerns about how the project would be done in this process, and on the other hand, we had the indecision to postpone the project. However, as the project partners, we have decided to carry out the project in the current conditions, regardless of the situation. These
conditions were as follows: in August and September of 2020, when our project started, schools in Turkey would mostly provide distance education, it was forbidden to go out in the evenings and on weekends, cafes, restaurants, non-governmental organizations were closed and it was forbidden to gather together. Our project coordinator Slovenia and our other partner Germany had similar restrictions. Everyone had questions about carrying out the project activities under these conditions. Because we have never had such an experience before and the unknowns were too much. However, our project coordinator put us at ease and convinced us that we would do our best. The content of our project was a brand new topic for me and I had no previous experience in the field. First, we tried to improve ourselves in this topic through the internet. We read articles about stop-motion, which is our project topic, watched videos and tried to make stop-motion movies. We held online meetings with our project partners who are more experienced in this regard. So, rather than giving up, we somehow took action. We were making progress, albeit slowly. When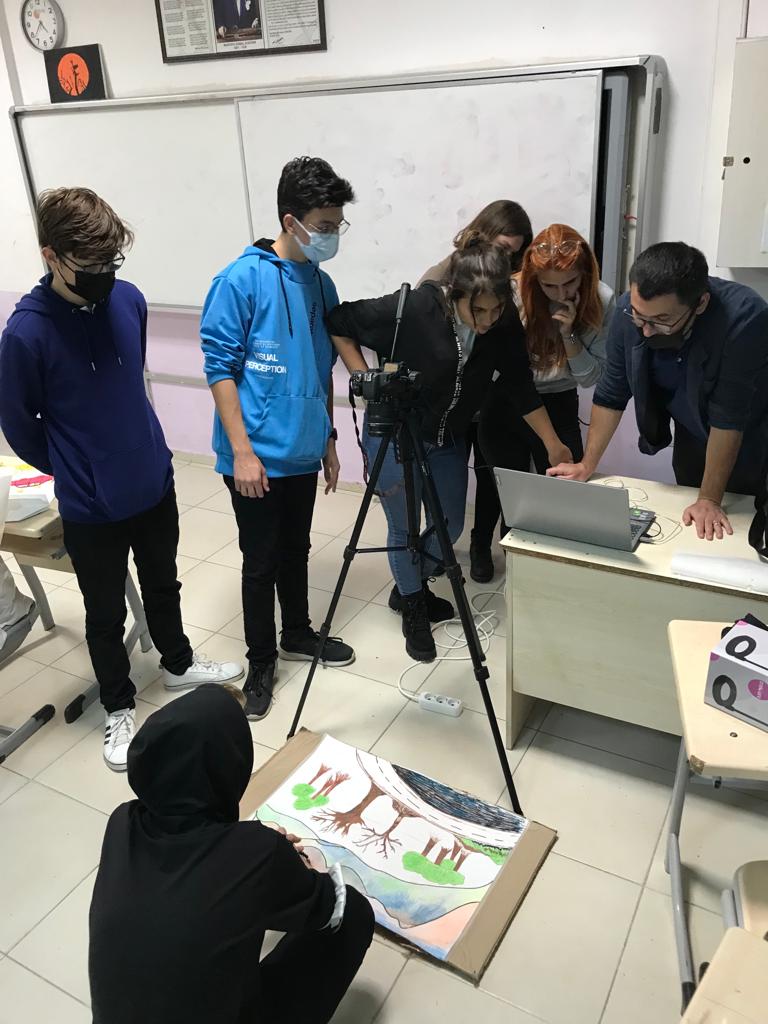 we started face-to-face education at school on a limited basis, we introduced the project to the students and tried to involve them in the project. Afterwards, we started to give regular online stop-motion trainings with these students. Although the idea seems simple, it was not so easy to provide project trainings to students online. At this stage, we encountered some difficulties and we solved some of them but some of them we couldn't. At first, our financially disadvantaged students did not have a computer or internet access, or their internet access was very limited, and our students living outside the city center also had internet access problems. They were often able to attend online trainings with their families or their own mobile phones. Since the project was different to the students as a subject, the students were very enthusiastic and highly motivated at the beginning. However, over time, this desire and motivation decreased a lot. There were some reasons for this. First, students were taking all of their classes online via distance learning, and they were overwhelmed by such intense online training. Secondly, constantly explaining the subject of the project (stop-motion) theoretically bored them and caused them to lose their motivation. Now they wanted to see and do something practically besides theoretical knowledge. At this point, we were watching videos related to our topic and shooting similar animation videos at our home in order to make online training more enjoyable. Sometimes we were pushing the students to motivate them and sometimes we were leaving them free so that they would not get bored in the trainings. It was a process that required a very delicate balance. That's what we were able to do, because the restrictions were still in place. However, as of September 2021, many of the restrictions were lifted and we finally started face-to-face training. Again, we introduced our project to our students and included new students in our study groups. At school, we were now able to shoot stop motion animation videos practically. Students enjoyed this process very much. They learned many things faster. We aimed to make them more productive and motivated by trying to make their work environment as comfortable and comfortable as possible (some music, snacks and drinks). In general, this method worked.
  Another activity of our project was training activity for youth workers. We had a total of 3 training activities, 2 in Germany and 1 in Slovenia. However, due to the pandemic conditions, we held 2 of these trainings online. Indeed, these online tutorials turned out to be more helpful than I expected. In addition to the training, we created our story and script for a joint animated film and distributed the scenes by task distribution. Then we were finally able to carry out the third training activity in Germany in September 2021, when the restrictions were eased. It was very good for everyone to come together and meet face to face with our project partners after a long time and online meetings. We had the chance to shoot our co-created story and a beautiful animation video came out. I think we achieved this with the patience, dedication and ability of all partners to overcome difficulties.
In addition, we have overcome these difficulties thanks to the communication that was established by our project coordinator with us throughout this pandemic process. In the online meetings we held regularly every month, we were talking about the progress of the project, as well as talking about how the pandemic process was going on in our countries, and we were having a kind of trouble. This was something that made me very comfortable and made me feel good. In this way, I believe that a strong bond is formed between the partners. As a trainer, I can say that this is what kept me motivated in this project. I always believed that we would somehow overcome the difficulties.
Finally, I can say that we overcame the difficulties in this whole process with our good communication and our determination to never give up. When you start a project, you will face difficulties, but the important thing is to never give up and somehow overcome these difficulties together with all your project partners and with the strength and motivation you get from them.
Yıllardır gençlerin arasındayım, gençlerle çalışmak oldukça eğlenceli ve güzel. Sürekli kendimi yenileme imkanı da buluyorum. Türkiye genç bir nüfusa sahip, gençler bizim geleceğimiz. Gençlerin hayatına bir değer katmak, onlara yol göstermek, fırsatlar sunmak rehberlik etmek gerekiyor. Projeler gençlerin hayatına dokunmada oldukça etkilidir. Gençlere inanılmaz fırsatlar sunmaktadır. İşte bu durum benim gençlerle çalışmamda oldukça etkilidir. Yaptığımız bir çalışmanın etkisini anında görme imkanı buluyoruz ve gençlerden harika geri dönüşler alıyoruz.
Dünyamız çok hızlı değişiyor ancak bu değişim beraberinde birçok sorunlar ve belirsizliklerde getiriyor. Türkiye'de gençlerin çok ciddi sorunları var ve ne yazık ki gençlerimiz bu sorunları çözmede veya geleceklerini belirlemede çok zorluk çekiyorlar. Ancak bizler her sorunun bir çözümü olduğuna ve gençlerin güzel bir gelecekte yaşayacaklarına inanıyoruz. Oldukça sıkıntılı bir pandemi süreci geçirdik, yeni alışkanlıklar kazandık, ekonomik sıkıntılar çekiyoruz. Bu sıkıntılar arasında gençlerimiz kendilerini geliştirme ve yeni kazanımlar elde etmekte zorluk çekiyorlar. Üretken olmak zorundayız, vazgeçmemeliyiz.
19 yıllık öğretmenim ve 13 yıldır Erasmus projeleri yapıyorum. Birçok gençlik projesinde yer aldım. Kazandığım deneyimleri gençlerle paylaşmaktan mutluluk duyuyorum. Birçok gencin yönlendirmeye ihtiyacı var tek yapmamız gereken onlara yol göstermek fırsat vermektir. Gençlerde yeterince enerji var bizler gençlik lideri olarak onlara sadece fırsat veriyoruz. Bu fırsatları değerlendiren gençlerde hayatlarını değiştiriyorlar.
Gençlere faydalı olduğumu görmek ve olumlu sonuçlar almak benim en büyük motivasyonum. Gençler ile iletişimim oldukça iyi ve onlarla iyi anlaşıyorum. Bu yaptığımız Animavision projemizde de bölgemizden imkanı kısıtlı gençlerimize farklı bir deneyim yaşama imkanı sunduk, hem eğlenceli hem de faydalı bir çalışma oldu. Bu kazanımlar bizim yeni projeler üretmemize de destek oluyor.
Sertan AY / Youth Worker